Features:
Durable and smooth surface with powder coating treatment help prevent rusting, keep aesthetic and stands the test of time and weather
You can quickly and easy to install it with some hand tools.
Can use concretes post instead of our steel posts
Pass 1500 hours salt testing
HNSESG12 gate is a good choice for residential driveway and commercial driveway
Full of components for agate set, it is not necessary to buy anything more.
The gate is compatible with the HNSE fencing system
Refer to our HNSE Catalogue and website hanexmetal.com to see more steel gates and fences.
The spearheads can be adjusted according to your requirements
5-Year limited warranty
Specification
Material
Steel
Surface treatment
Galvanize, Nano-ceramic, Primer coating, Finishing coating.
Width
10 feet, 12 feet, 14 feet, 16 feet, 18 feet, or as required
Height
5 – 8 feet
Horizontal rail
20x40x1.6 mm, 40x40x1.6 mm

(thickness 1.4 – 2 mm)

Vertical rail
20x40x1.6 mm, 40x40x1.6 mm

(thickness 1.4 – 2 mm)

Picket
20x20x1.2 mm, 25x25x1.2 mm (thickness 1.1 – 1.6 mm)
Distance between pickets
100 – 130 mm
Color
Black, satin black, white, green, blue
Accessories
Heavy-duty hinges, screws, nuts, bolts
Gate Installation
We offer 3 methods of gate post-installation. They can be installed on any type of ground such as grass, platform, concrete, brick…
Using our heavy-duty steel hinges to match the steel gate panel to the posts.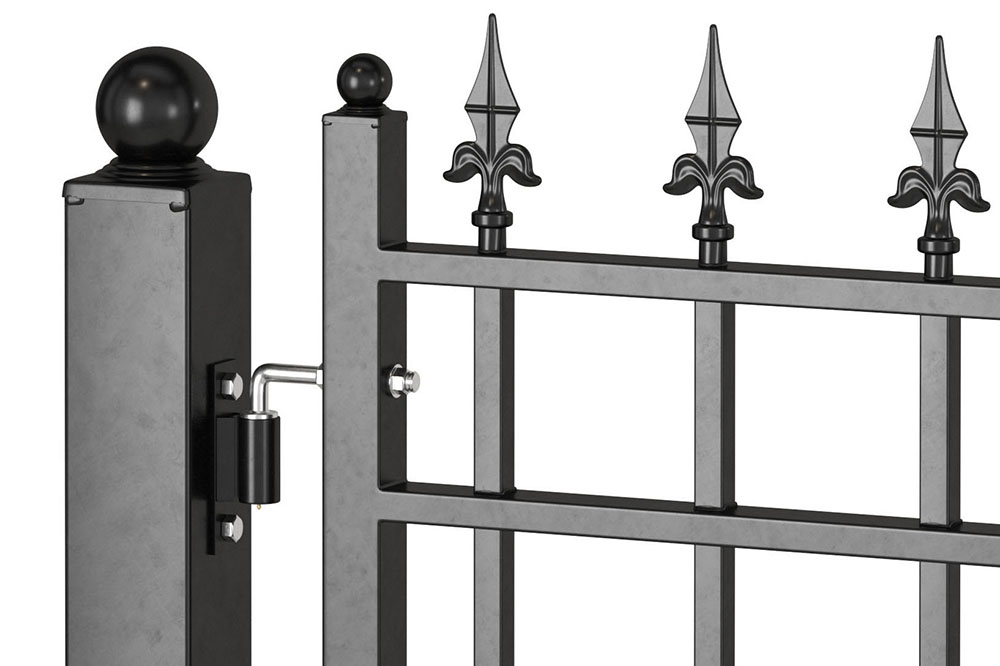 Packaging
About us:
Hanoi Import Export Steel and Equipment Joint Stock Company is one the most professional manufacturer in Vietnam of mechanic products such as steel gates, steel fences, steel railings, steel kennels, and their opponents. Our factory system is equipped with high-tech equipment like robotic welding machine lines, the automatic powder coating line; CNC cutting and punching machines; forming and bending machines. With such production lines, high-quality material source, experience, dedication we commit to provide you the best products in Vietnam at great prices.
We successfully have been exported our products to many international markets such as the US, Australia, New Zealand, Canada… and built a good reputation.