It is hard to pick the right kind of fence because it has so many options to choose from. Let us walk you through this jungle of choices.
Colorful fences made from all kinds of materials will confuse you. We will show you how to choose a type of fence that suits your needs. The following article will analyze the features that each type of fence offers.
What do you need?
That is the first question you need to ask yourself. Of course, we all need to protect our families and property. But the more practical questions are that you need it for what kind of security. Do you need a private space? Do you need a decorative fence? What kind of climate are you living in? Do you have pets and children? Etc.
You can use fence suits for all purposes like picket fences because of their sustainability. But if the common fence cannot satisfy your family and yourself, you need customized gates and fences.
If you put privacy above all else, you should install vinyl or fiberglass fences because of the level of concealing that it provides. One thing is for sure, for maximum security, you need steel or chain-link fences. You should choose beautiful fence designs to enhance the appearance of your property.
Fences for residential buildings
True American houses always have picket fence because of the utilities that it brings. This type of residential fence is the perfect icon for a classic cottage. The residential fence comes in a wide range of colors. If you like, you can choose the standard white to protect your simple house. Keep in mind that you can ask the seller for a customized fence to match your property's appearance.
This type of fence protects children and pets and could somewhat slow down outsiders. After all, we need to fence off robbers, that's why we suggest barricading the fence to provide more protection.
Fences for countryside Houses and Farmlands
Even if you live in a peaceful and safe country, you still need strong fences to prevent risks. Besides safeguard functions, you will need a garden fence so that animals don't break through and destroy plants. A split wooden fence will keep animals at bay. We are sure the beautiful sturdy wooden fences will leave an impression on the landscape of your land. The Split wooden fence has a classical and extremely durable exterior that will complement the charming country-style home. Moreover, it is easy to install to round up farm animals, making it a natural choice. Finally, the split wooded fence will mark your land.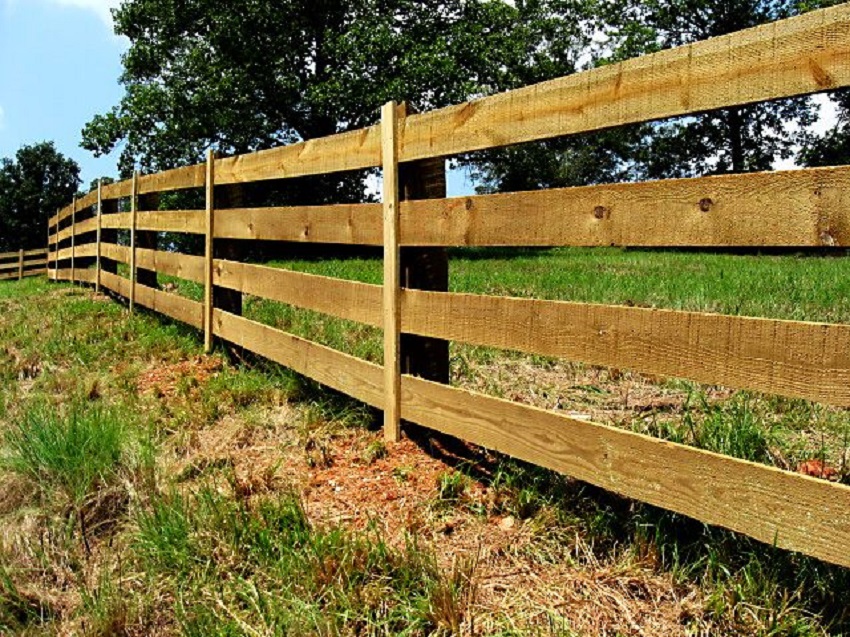 Fences for beach House
You will need anti-rust materials to make fences at locations near the sea due to elements of ocean water. Please consider paying a little bit more on material with good quality because it is a good long-term investment. You will not want to choose a wooden fence for a beachfront property because it will require regular maintenance and may need to be reinstalled by the nature of the material.
Wood is the most accessible and beautiful fence material but it comes with many drawbacks. One of which is it can not resist many weather elements, especially moisture in tropical areas. So if you want to minimize the spending, you will need something else.
We suggest using Vinyl fences by the following factors. First of all, it has a wide variety of colors. Secondly, the low maintenance and rugged option look great for belt-tightening budgets.
In addition to Vinyl fences, you also have aluminum and steel options to protect your beachfront home. Some examples for your reference are the sculptural fence, the tubular fence.
Final Conclusion
We hope this article will help you choose a garden fence and a residential fence. If you still have questions, contact us immediately for advice. Hope you find the best fence option for your home